Social Medias have changed the way of living people. Different social media channels like Facebook, Instagram, Youtube, Tiktok, etc are driving people crazy. On other hand, social media are the best platforms to do business because most people of different genera, interest spend so much time on social media. People often make mistakes while posting and targeting people on social media. This is all about the Top five Biggest Social Media Marketing Challenges. 
# 1 Defining Marketing Goals: Biggest Challenge of Social Media Marketing
Doing business on Social media is so productive but, we often see marketers struggling with goal setting. They are still unable to set the target on Social Media before advertising on Social Media. And According to Influencer Marketing Hub, Many of the Marketers are still unclear about the KPIs. Marketers should set the goal before thinking of advertising on Social media otherwise this can affect the budget and future plannings.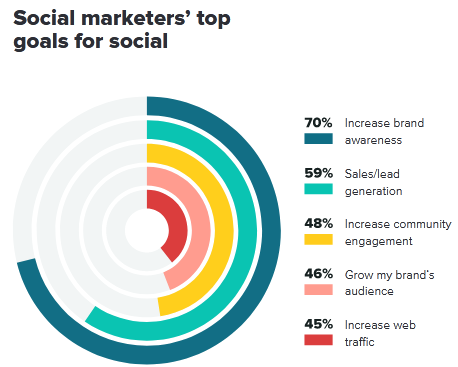 How to solve the Challange
You need to be sure of why you are on social media. This will help you to identify your business objective and the need and expectations from Social Media Channels.
You should set a SMART goal for every social media campaign. Where SMART refers to Specific: The kind of platform, targeted area, and engagement should be well defined, Measurable: You can measure every move by using Social Media Analytics, Attainable: Make sure your goal will be achieved by your strategies, Realistic: Set a goal that you can achieve, Time-Bound: The time bond should be well defined.
#2 Identifying the right platform: Biggest Challenge of Social Media Marketing
Platforms not only refers to which social media channel you are focusing on, but they also defined which specific field you are targeting within any Social Media Channel. So before doing business on social media, you need to make sure which platform best suits your business, and what to use within specific social media channels. There is a chart that will show the marketers vs consumers on different social media channels.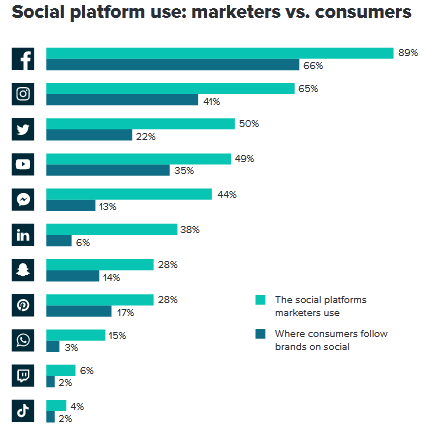 How to solve the Challange
The platform fully depends on your goal setting. If you are all set for the goals, that will not be the biggest problem for you to choose the best platform.
For example, if you are related to Technology, you should go for LinkedIn. On the other hand, if you are so passionate about connecting with people, Twitter will best suit your business, and so on.
#3 Understanding the Target Audience: Biggest Challenges of Social Media Marketing
Let's take a tour if you are completely unknown on who you are targeting and started doing business already, you are so close to being doomed. You need to understand your targeted audience group. You need to know your customer needs and you should define your customer in the first place.
Customers are the assets of any business. Here is the survey which shows why customers unfollow brands.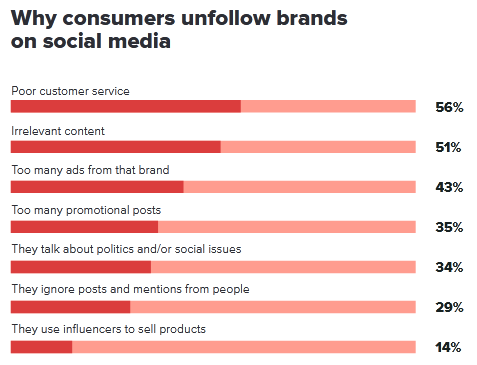 How to solve the challenge
You need to know your ideal customers. You need to know what you are providing and to whom you are targeting before any execution of Business. You need to define your Buying Persona. If you are boosting ads on social media, you can use ad analytics to define your targeted customers.
You can use Social Listening Tools and You can build a community based on your product.
#4 Declining Organic Reach and Engagement Rates : Biggest Challenge of Social Media Marketing
Natural reach on driving social stages is plunging. At the same time, the expense of paid promotions is expanding. Brands are battling to find some kind of harmony between objectives and financial plans.
Investigate this graph from Trust Insights. It investigates commitment on 1,000,000 posts from 4,097 brands on Instagram.
As should be obvious, the number is declining altogether. The middle commitment rate for neglected marked substance on Instagram remains at simply 0.31% at this point. This implies if you have an adherent check of 1000, just 3.1 of them will draw in with your substance.
Facebook guards the pattern by saying that individuals like to see content from their loved ones and not brands. However, their case crashes and burns as 90% of Instagrammers follow organizations as well.
Brands were simply grappling with the terrible news when Facebook and Instagram carried out new updates to assist brands with adapting their substance. Instagram's Checkout include is the most recent expansion in this arrangement. Even though the musing is incredible, brands need to pay a commission to the stages. For a private company with two or three hundred supporters, these updates could mean almost zero natural reaches.
That is not all. Instagram's influencer industry is additionally winding down. In 2019, Trust Insights investigated the profiles of 4,462 influencers. The announced the middle commitment rate for 632,379 neglected posts fell by 41.2% in only one year.
# 5 Increasing Ad Cost: Biggest Challenges of Social Media Marketing  
 Big brands with deep pockets prefer to use more amount to boos n social media. Even small brands think that spending too much money on advertisements will grow their business but that is the biggest mistake of Social Media Marketing. People spend so much money and a somehow small amount of customers will get the ads and contact if they need. But they don't count the waste of money. 
How to solve the challenge
Using a small amount on advertisement by setting perfect audience is far better than spending more money on Social media ads. 
If you use social media systematically, there is no doubt that social media marketing will grow your business. But wrong moves can destroy your business in much easier manure. In Nepal, most of the small businesses are based on Social Media channels, and for those who are doing business systematically, their businesses are growing so well.
Extra Tips :- Social Media Marketing in Nepal