Getting a juicy link is really a hard work! Do you want to rank your website on Top of Google without backlinks? Under SEO, there are basically 2 broad techniques:
Off page optimization deals with working outside your website. It includes link building techniques. For example Backlinks.
Today, I am going to share you 12 amazing On Page SEO Tricks for 2021 to rank your website without a backlink. On Page Search Engine Optimization is one of the most important processes which you can use to rank higher in a search engine, grab organic results and running successful SEO campaigns.
Some of the tricks are old while some of them are new that none of SEO Company revealed. So, let's begin:
On Page SEO Tips 2021 – Website Structure | Mobile Friendly
If you are planning for SEO, you must think it with SEO mind from the beginning. I have worked with 100's of clients and found interesting fact that "Better Web Structure will help you rank in Search Engines in 2021".
You can not rank high on Google without proper web structure. Site Structure is nothing but how you organize your website contents. A good site structure provides greater customer experience. Our mind is in Cognitive Equilibrium, our mind wants things in places where they are expected. As it is appealing to User, it is also a ranking factor in Google. Google's algorithm counts on Bounce Rate and CTR. A better optimized site is must will reduce dwell time and bounce rate. It can also help to improve your Click Through Rate. Moreover, better web structure helps to get site links.
Moreover, Google prioritizes the website which are mobile friendly. Make sure your website is mobile friendly as well.
Page Speed and How it effects SEO
One of the ranking factor that Google uses in 2021 is Page Speed. The faster your website is, the better is User Experience and lesser the bounce rate and dwell time. People have very low patience today. If your website donot loads on time, they may visit your competitor's link. Make sure your website load time is below 2 seconds.
See the graph of page load and ranking (research from Ahrefs Blog)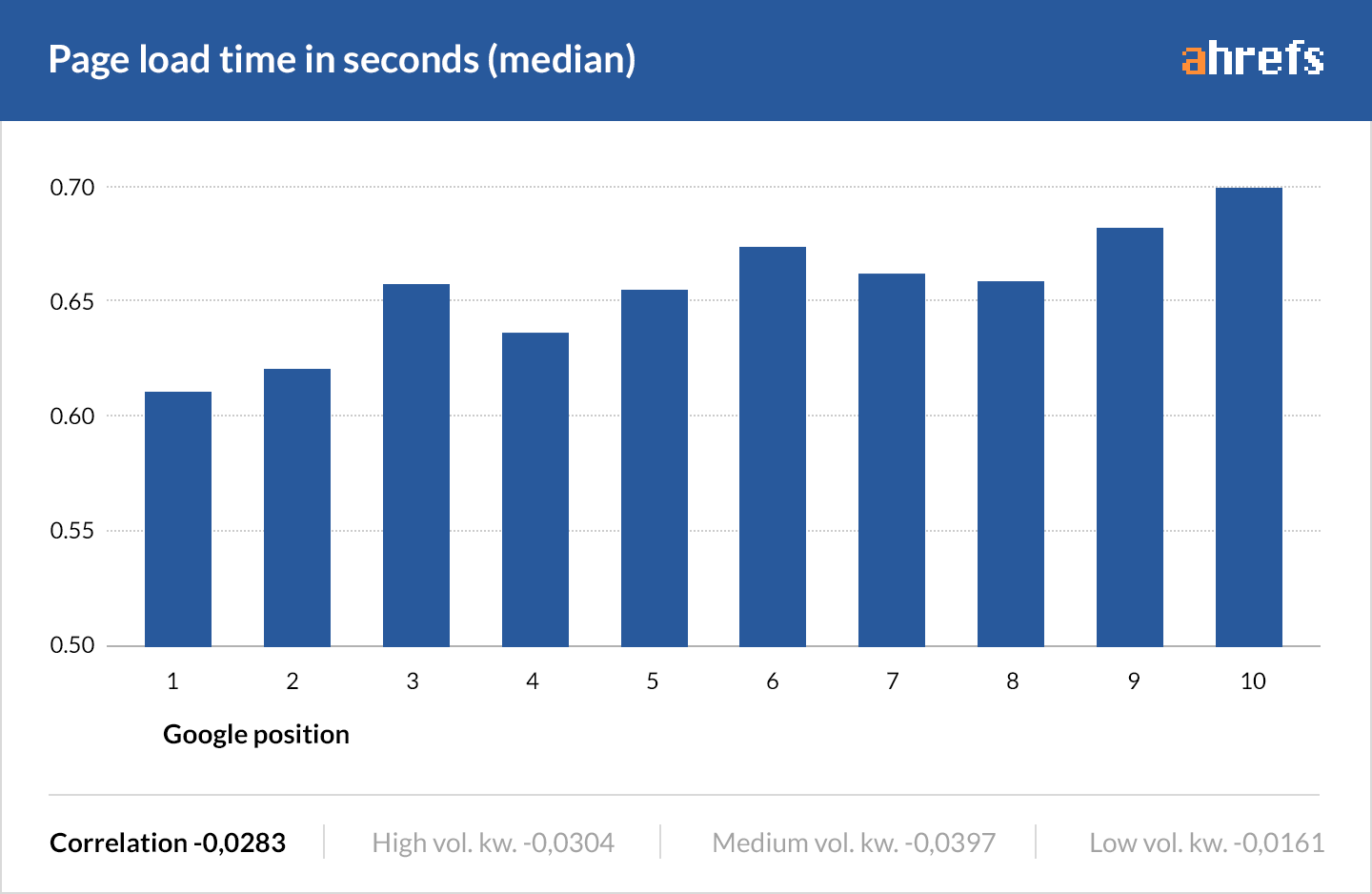 Site speed can be made fast by Optimizing HTML, CSS and JS Code, Minimizing Image Disk Spaces, Lazy Loading, Reduce initial server response time, Ensure text remains visible during web font loads and many others.
Understand the User Intent and Write Valuable Unique Content
It's been so long we have heard "Content is King". Content is King in 2021 when you can match the user intent. Unique and Fresh Content Writing is great way to boost on page SEO in 2021 as well. If you search for some Tshirts in Google, google understands your intent and show you products or categories page but not blog about Tshirts. So, you must know and understand what user really wants to. And craft your content in accordance. Content Writing is one of hot SEO Service.
While writing contents, Make sure you have exciting headings and sub heading that matches user intent. In addition, include your targeted keywords in titles, images and paragraphs.
Moreover, you have to often update your old contents. Build internal links pointing to main page. For example, if you are planning to rank on keyword like "Online Marketing" create pillar contents like SEO, SMM, Google Ads, Digital Marketing and link back to that page.
Some Content Writing tips that helps to rank you in 2021 with amazing On Site SEO:-
Creating Pillar Contents
Internal Link Building
Updating Old Contents
Including primary keyword on first and last paragraph of your blog
using LSI keywords
Using H1, H2, H3 tags with atleast one keyword
Writing more than 1700 words long content
Matching User Intent
Optimizing for Voice Search
Descriptive URL
Social Sharing on website
Titles and the Meta are still must focus On Page SEO Technique
Even it's 2021, you should not underestimate the Meta Description and Meta Title. Using keywords in both Title and Description helps to rank you higher. As per Google's RankBrain Algorithm, it will check Click Through Rate as well. So, even if you ranked on top and people donot click on your website due to boring title and description, you may be out in the Game. You have to write amazing and user focused keywords in Meta tags.
Some better ways to write Meta Title and Description are:
Keep it up to 155 characters
Include a call-to-action.
Use your focus keyword.
Make sure it matches the content and intent of the page.
Make it unique.
Use Numbers (like #1 Agency, 12 Marketing Tips)
Related: SEO Faq's
Media, Advantage of YouTube SEO and Alt tags
Another exciting and helpful SEO tips for 2021 is use of YouTube SEO. As, Google ranks mostly Videos on Top of Google, you can convert your blog or service in a video and take advantages of YouTube SEO. Moreover, you can create podcasts, presentation, graphics and upload in your website.
It helps to spend more time on your site and provide value to your web visitors. Adding Media Files which may be useful can help to boost your On Page SEO.
Image Optimization by adding primary keyword in Alt tag is still important in 2021 Search Engine Optimization. You can also add snippets from Twitters like this 😛
Setting Up Google Analytics and Search Console to Measure
Doing SEO in 2021 is quite exciting. You must have some better competition. You have to keep on measuring how you are performing using Google Analytics, Google Search Console and Google Tag Manager. Moreover, You can see your rankings, bounce rate, visitors and many more. And, You can also set events and track the funnel. These SEO Tools are must to measure your SEO progress in 2021. You can see who, what type of people and from where are visiting your website, what they are doing. It helps to track why you are not getting sales and where can you improve.
You can see the traffic source as well. You can use these data to get more traffic on your website.
Moreover, with Search Console you can measure average rankings and CTR and plan hence for better CTR and page ranking. You can submit your website sitemap there. Benefits of console is that you can check crawl ability errors in site and hence improve your SEO in 2021.
Local Business Listing Pushes Traffic and On Page SEO
Whenever you search for some service keywords like Cake Delivery in Nepal, google shows up Business Listings. You can take advantages of Google My Business to get direct traffic to your website. Optimized Local Listing, Time to Time Updates, and getting some reviews can help you get top position on Google My Business. It is one of the coolest SEO hack of 2021 which you should never miss. Directory Listing, Local handing pages are some amazing tricks to rank higher in Google without backlinks.
Other Tricks to do On Page SEO in 2021
There are hundreds of ideas of On Page SEO to rank without backlinks. I cannot explain about every other ideas on this blog. Here are some advanced On Site SEO techniques in 2021. Please Google and Read about these also:
CRUX (Chrome User Experience)
Google now also checks for CRUX(Chrome User Experience) to rank your website. Use their dashboard to check your website performance and improve in accordance.
Enabling Guest Blogging
Guest Blogging is still gem in 2021. You can also enable other to post valuable content in their site. They will share the blog and you can get some hits. Traffic is important in SEO.
Multi-lingual Site
It needs no explanation. It's better to use multi-lingual sites. It also helps to make your website trustworthy and get good links without hunting for backlinks.
Unlinked Brand Mentions
It's quite interesting and most people still don't know. Getting a name mention without a link is also fruitful in SEO.
Outbound Links
While writing articles, give link to the authority sites. This is recommended practice of writing content.
Table of Contents
Writing a table of content as above gives user option in Google to pick section which they want to study.
Use LSI keyword in H2 or H3.
Long Tail keywords in H2 and H3 also helps to make your content more meaningful towards particular keyword.
FAQ's
Writing FAQ's with intent of voice search and user intent is also good practice of writing the content.
Remove stop words from permalink
Google understands sentiment. So, it's useless to use in, the, of like stop words in the url.
Fix 404 Page
Fix the 404 pages and 301 redirect them to some useful and relevant link pages.
HTTPS Hosting
You site must be secured with HTTPS hosting. Google ranks HTTPS sites above HTTP sites.
Add comment section
Allow People to comment and share their views on your blog. It will help you make better communication and get traffics.
Public Who is Privacy
Keep your who is privacy. The contacts in Who Is and Your website must be same. It spreads positive signals.
At least 1 Years Older Domain
You must have been working on a particular domain for atleast 1 year to rank in higher in Google.
Book Domain for next 5 years
Google trusts you if you have long term plan for working in this domain for more years. It is not a ranking factor but positive signal.
Hope you got some cool ideas to rank your website using On Page SEO in 2021. Moreover, If you have some coolest ideas on this, feel free to comment below.