You are already here, for Instagram Promotion or Instagram Page Boosting in Nepal, means you know how important is Marketing for any business. Let me amaze you, more than 40 lakhs of Nepali use Instagram. If your targeted audience are young aged 18-35, then you must setup a Instagram Page in Nepal and Start Working on it. Instagram is under facebook. So, Instagram Promotion in Nepal is same like Facebook Boosting in Nepal.
A fact shows that, the ROI of Instagram Promotion is better than any other Social Media Platform. If you can create a great content and promote your Business Page – you can make good money. Instagram Marketing is one of Best Returning Social Media Marketing Platform.
If you have not set your Instagram Business account for Nepal, set up in now.
How to Make Better Instagram Profile for Instagram Promotion in Nepal?
Okay, you are ready for Instagram Promotion in Nepal. Make sure you have made a better Instagram Profile. Follow these tips and make a better profile people can trust on.
Make it optimized with Amazing Bio which will enforce people to follow you
Choose a category of your business ( It can be Online Shop, CupCake Shop, Retailers, Personal/Blog etc. )
Give a Good Name which matches to user search ( for ex: if you do food delivery in Nepal, use yourname+foodsnepal ) this will help people to find you.
Use attractive Logo
Link to Your Website and Keep your Account Public
Put Consistent Content which align with your Brand Voice and Tone ( Same fonts, colors, logo attached, same brand message etc.)
Put Stories and Organize your Stories
Always provide better contain which should either Educate or Entertain your audience.
Use proper hashtags, High Quality Image, Better Caption for better Instagram Promotion.
How we Do Instagram Page Boost in Nepal?
You must have seen a promote button in your Instagram Page. You may have tried clicking on that and it pops up with billing account which you bank do not supports. Okay, you have friend's account and you can boost it. But can you optimize it? It's not all about clicking a BOOST button in your Instagram Account. So, here is the step we follow to do Any Instagram Promotion in Nepal. If you have everything access – we recommend you to Boost Instagram page using Facebook Ads manager.
We understand your Motivation ( What do you want must? Is it profile visit, Is it Sending Message? Is it getting traffic to your website? or Is it Brand Awareness? )
Comes to Knowing your Audience ( What's their age, demographics, sex, interest etc. We can also set automatic and local audience – defined by Instagram itself. Always better to go with custom audience )
Craft Video/Image/Text Content that Sticks ( There is lot of competition in every business and you have to stand tall. We make amazing contents which sticks to people. They will remember you and do business with you )
Set Budget and Duration ( What's your Budget, How Long you want to boost your Instagram Page in Nepal, you can anytime stop, pause, decrease or increase budget. )
See your Results ( Instagram Insights plays Huge Role here. You must understand how your Boost worked. And check insights of what actions were performed and so on )
In Instagram Insights, you can track anything like:
Impressions
Profile visits
Follows
Shares
Website clicks
Comments
Number of people who got directions
Number of people who contacted you
How many people discovered you
Instagram Boosting Options in Nepal
Before starting Instagram Promotion in Nepal. Be Clear, Instagram enables you to create 3 types of Content – Post, IGTV Video or Story. You can do promotion in any of these. Generally stories and videos plays better impression than that of post. Instagram Charges you for CPI i.e Cost Per Impression. If 1000 people see your ads you will be charged some amount and it adds up if someone messaged you or visited your profile. Better Instagram helps to build Online Branding Your Business
The First Thing is always a Content. Follow these trciks to make better content for any of content you make.
Understanding consumer sentiment before a new promotion campaign ( How they want to see your product )
Identify common consumer pain points to target ( What problem you are solving and how to show it is important )
Find gaps in the services/products offered in your industry (not just your brand and hit that point)
Finding demographics that have yet to be targeted in a smart fashion (you can make your different audience )
Instagram Promotion in Nepal Pricing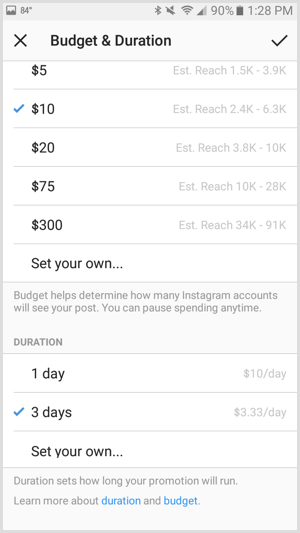 You have setup Instagram Account, You have Optimized it, You can creating amazing photos and posting with hashtags and content. Still, you are not reaching much people. It's now time for Instagram Page Boosting and Instagram Promotion in Nepal. We have best price Instagram Boosting Model for your business. Anyone can boost in this price but the return is high in case of doing with Marketing in Nepal.
| | |
| --- | --- |
| Instagram Page Boosting Price Range | Pricing |
| $35-$100 | 20% Charge |
| $100-$200 | 15% Charge |
| $200+ | 10% Charge |
We charge 20% on boosting upto 100$, 15% upto 200$ and 10% for more than 200$. Here, 20% means – if you do Instagram Promotion in Nepal of 50$ then you have to pay us 50$ + 20% of 50$ = 60$. In which, 50$ is paid for Instagram and 10$ is our service charge.
Bonus: Content Ideas for Your Instagram Promotion for Nepal
Here is FREE bonus for you. You may always wonder what to post on Instagram, which hashtags to use and so on. Content should be Valuable as much you can ( Value than Quality ) Information, Education, Motivation, Entertainment, Connection:Community.
#TIP 1: For Hashtags, use only those hashtags whose post are in Range of 20k-500k. In more posts, your post may disappear. Always seek low hanging fruits.
#TIP 2: For Content, Always try to make a Video Content. If not better Image Content which must align with your Brand Tone, Voice, Color and Message.
#TIP 3: Content Ideas – Quotes, Behind the Scene, Insights of your Product, Industry News, Memes, Promotion Posts, Giveaways and Offers, Discounts Posts, Tips and Tricks, People's FAQ, Testimonials, Reviews, Your Achievements etc.
#TIP 4: Be Consistent. Always Put on same time. If you put daily 2 posts always do that. Find better time when you get more likes using Instagram Insights and Post on those times. Never change to 6 some day and 0 some day.
#TIP 5: Always try to Entertain or Educate your Followers by Problem Solving or Entertaining Content.
#TIP 6: Seeking for more time on Posts, More Comment, Likes, Hashtags helps you reach wider audience.
Related Services
Getting your Service in 1st of Google – SEO

App Development for Marketing Your Business
Always Remember Marketing in Nepal for Instagram Promotion in Nepal.