Facebook Boosting in Nepal – You are up to here means you know How Important is Marketing for your business. Showing you the stat that more than 1 crore of Nepali uses Facebook, More than 30 Lakhs use Instagram. So, Social Media are the places where our targeted audience is. We have to show them the products and offerings on these platforms. Facebook and Instagram Boosting are of easy and best ROI advertising. We provide Facebook Boosting in Nepal. Must say – we are the Facebook Advertising Agency which provides Page Boost in Nepal at the best price and better result.
Most of Facebook Page Boosting Agency in Nepal only boosts your post it reaches to maximum people but you get 0 money in. In case of Marketing in Nepal, we provide better conversion. We understand your audience, we understand their worldview and craft content and boost Facebook Post according to the way people will buy from you.
We set up Facebook Ads Manager and show you the reporting of how your campaign worked, who liked it the most, and many more.
Why you should do Facebook Page Boosting in Nepal?
I have already mentioned that most of people spend time on Social Media specially Facebook. And, you should always promote your business where your audience are. With Facebook, you can create targeted Ads selecting Age, Gender, Income, Psychology and more. Moreover, Facebook Page Boosting starts from $1 per day which is cheapest form of Marketing. You can reach maximum targeted people with minimum cost using Facebook Ads. Some of reasons why you should do Facebook Boosting in Nepal are:
Your customers spend most of their time on Facebook
Facebook Boosting is the most targeted form of advertising
Boosting in Facebook is Cheap and Fast
Facebook Ads increases revenue, sales, leads, website traffic and brand awareness
Advertising in Facebook in measurable and you can easily customize it
It increases word of mouth and referrals
Facebook is great source of Branding and Customer Interaction
Facebook Boosting in Kathmandu
Clicking on Boost Your Post is not enough. There are number of Facebook Boosting Options for you. Through Facebook Ads Manager, you can either grow Brand Awareness, make more Reach, get App Installed, get Website Traffic, Get Engagements, Get Messages and many more. With us, we understand your business need and customize Facebook Ads as per your need. And we provide these all under Facebook Boosting in Kathmandu.
Awareness: Brand Awarenes, Reach
Consideration:Traffic, Engagement, App installs, Video views, Lead generation, Messages
Conversion:Conversions, Catalog sales, Store traffic
How to Do Facebook Post Boost in Nepal?
For "How to" – you must learn some Digital Marketing Masterclass. If you know it then you must be in trouble of how to make payment to facebook. For this you need either of Paypal or Mastercard. And, if you cannot get it from Nepali Banks. So here are some options:
Get help from your friends or family living abroad. They can make a payment for your post.
Connect with digital marketing agencies. We will help to do Facebook Boosting in Nepal.
How we do Facebook Page Promotion in Nepal?
The first phase of Social Media Marketing or Facebook Boosting in Nepal Starts with understanding your goal. Why you are in social media? Either to show your products or services, to get more Views on YouTube video, to share your Blogs/Articles and many other. Then, we need to understand your audience – their age, location, sex, habits and interest. After this, we optimize your Social Account so better trust and search.
After setup, it comes to making a connection to your audience. We need to craft a content that really solves the problem of people. We have to create Text, Video or Photo, use hastags and many other things. Then we will set a budget and boost your message. You can boost page in Nepal either to get more page likes, more messages, brand awareness, and so on.
How Can I do Re-targeting using Facebook Ads
Using Facebook Pixel, you can track which user visited your website and did not make any sales. You can re-target those users and boost your post.
You can use Audience Psychology like their interests to perform targeted Facebook ads for them. For example: showing E-commerce ads then target audience interested in Online Shopping.
Facebook Boost Price in Nepal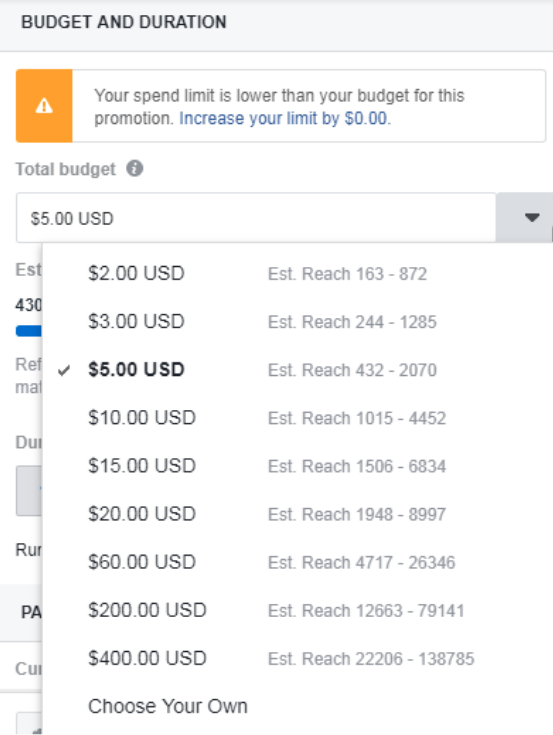 First making you clear that when you do 2$ Boost then we have to pay 2$ to the Facebook Company. We only add 15-20% commission as our service charge for boosting. We provide low price high return Facebook Advertising Service in Nepal.
The Facebook Advertising includes Boosting in Facebook, Instagram Promotion or Messenger. You can decide to advertise on Story only or Post Only or Both. Facebook Boosting Rate in Nepal differs from amount and here is the details:
| | |
| --- | --- |
| Facebook Boosting Price Range | Pricing |
| $35-$100 | 20% Charge |
| $100-$200 | 15% Charge |
| $200+ | 10% Charge |
We charge 20% on boosting up to 100$, 15% up to 200$ and 10% for more than 200$. Here, 20% means – if you do Facebook Marketing in Nepal of 50$ then you have to pay us 50$ + 20% of 50$ = 60$. In which, 50$ is paid for Facebook and 10$ is our service charge. This is the best Facebook Boost Post Cost in Nepal.
Generally, the Facebook boosting price is the same for maximum companies – you must see which company has a better Conversion Rate. And, we must say we are the Best Facebook Marketing Company in Nepal. Facebook Ads can be very effective for your Growth Hacking Campaign as well.
Which is the best Facebook Page Promotion Company in Nepal?
With more than 4 years of Experience in Social Media Marketing, Marketing in Nepal is the best Facebook Boost Company in Nepal. Being the Best Facebook Boosting Company in Kathmandu, we provide optimized marketing and better ROI.
But as Experts, we must say only Facebook Boosting is not enough for your business. You have to do much other Marketing and Growth Hacking Techniques to grow your business in Nepal. Facebook Boosting is one thing you should always keep on doing however it's not enough. Interested to know more?
Note:- We don't do Facebook Boost only. If you want to increase the boosting amount in any of the Social Media Marketing packages, the above changes will be applied.
Our Facebook Page Promotion Service is in Kathmandu, Lalitpur, Bhaktapur, Chitwan, Naranghat, Butwal, and Hetauda.