Digital Marketing in Nepal – it's new way to advertise your business and advertise better. If you are running business and you are not planning for Marketing, specially Online Marketing in Nepal, then no one can stop you from falling apart and your end will come soon. You are here means you know the Importance of Online/Digital Marketing to any Business in Nepal.
Before starting Digital Marketing in Nepal – just answer me "Why will you advertise your Business?" To reach more people right? How many people can you reach by doing Door to Door Marketing per day – 1000? By Online Marketing you can reach millions of your targeted people and it works even when you are asleep. You can set your Buying Persona like their Age, Sex, Gender, Location, Interest and target them better and you can reach more than 1000 people in 200 rupees – this is the POWER of Digital Marketing. So let's begin with the basics. It's going to be a very long article. So, use table of content to browse any section you love for Digital Marketing in Nepal.
What is Digital Marketing?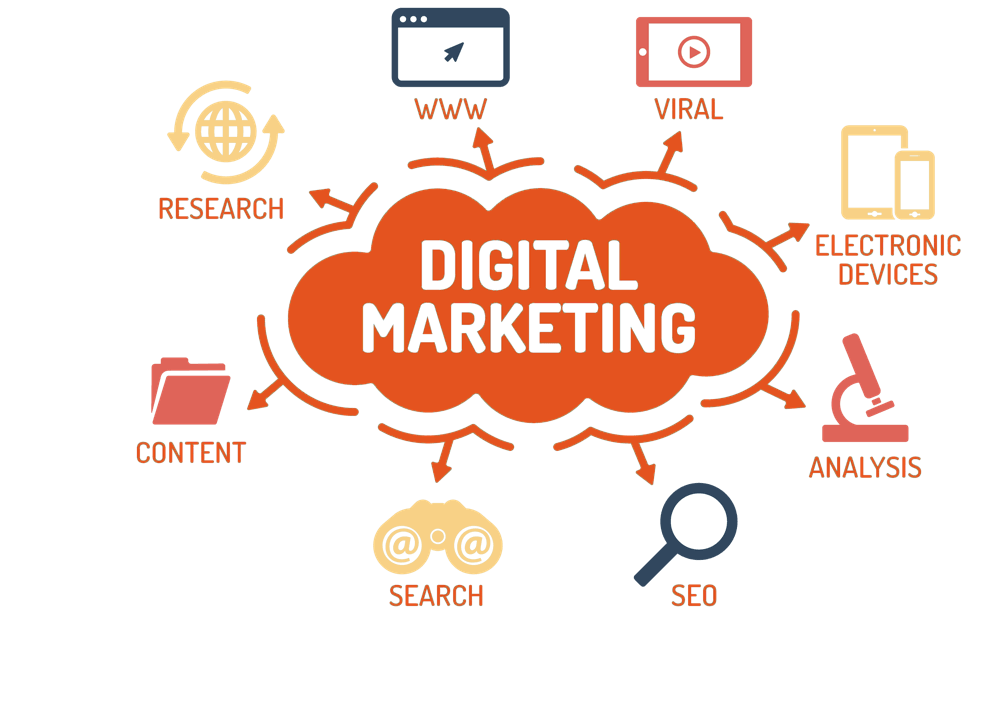 Digital Marketing in Nepal is nothing but new form of Marketing in which you use Digital Medium. Marketing is not a new word to anyone. You have seen TV ads, Newspaper ads and Pamphlet ads in Roads. This is Traditional Marketing. But these days are gone. Those old technique have very less ROI(Return on Investment) and are very much expensive that small business can not afford. Digital Marketing is the Marketing technique in which you advertise your business using Digital Mediums like Social Media(Facebook, Instagram), YouTube Videos, Google Ads, Search Engine Optimization, Email Marketing, Websites and Mobile App, Display Ads and so on. These medias are where your audience spent most time on and you can do targeted marketing using Social Media Marketing.
Here are some reasons why you should shift to Digital marketing in Nepal changing your ways from traditional marketing in Nepal. Likewise, Digital marketing is the investment-wise decision and also an effective marketing channel that can help to outreach your customers.
What Service is under Online Marketing in Nepal?
Digital Marketing is a huge universe within itself. There are hundreds if not thousands of services that comes under Digital Marketing in Nepal. It will be very very long – if I start writing in these all. Here are top Digital Marketing Services which BEST DIGITAL MARKETING COMPANY of Nepal provides:
Social Media Marketing in Nepal
Social Media like Instagram, Facebook, Snapchat, Twitter and Linkedin are the places where most of your audience spends time on. Average Nepali spends more than 3hr time on Facebook + Instagram. In addition, 40lakhs+ Users are in Instagram and 1 crore+ user in Facebook. That's huge on any platform. Facebook tracks every activities of user and helps you target your business to those customer who may buy from you. Like: Sex, Age, Demography and Psychology.
As a Business in Nepal, you should setup your professional Social Media Account, Create Amazing Content on those Platforms and often do various Social Media Marketing like Giveaways, Comment and win. Support your content with Facebook Ads or Instagram Ads. You can also do Linkedin Marketing – depending upon your audience. Social Media is also a part of Digital Marketing in Nepal.
Search Engine Optimization and Marketing in Nepal
Google is #1 site in Alexa in Nepal, this means it is most visited site in world. Whenever you have some sorts of queries or problems, you ask Google. Same does your customer. They may need some Gift Item or Cloths and they may be searching for best place to buy one. People always click the first link. And getting on the First of Google is all about SEO in Nepal. Search Engine Optimization(SEO) is the technique of getting you site on 1st of Google. Moreover, you can also place search engine ads for the queries people search for. SEO helps to get found when people search you. It is another service under Digital Marketing in Nepal.
You can keep Content Marketing under SEO. Creating problem solving contents and being found you solving these problems is important. If customer saw you solving their problem through product or service, they may reach to you to solve their problem. For example: If you are Web Hosting Company, you can create contents like How to Host website, How to manage Cpanel etc. You can find these content ideas in Google Keyword Planner.
Benefits Of Digital Marketing In Nepal
Either its Nepal or anywhere, you advertise there where you have your customers. As Digital Marketing helps you to market to your customer segment, it has numbers of benefits. Some benefits of Digital Marketing in Nepal are:
1. Digital marketing is now available for general business as well
Most of the businesses in Nepal believe that digital marketing is only for Multinationals and large Corporate Businesses. However, small and medium businesses can also now invest in Digital marketing. Likewise, if your products and services are great then, you can compete against the big competitors easily online.
2. Digital marketing in Nepal is way more cost-effective than traditional marketing
Small and medium businesses have a lesser amount of capital compared to those of big corporate businesses. And Digital marketing cost in Nepal is way more effective than physical or traditional marketing. According to Gartner's Digital Marketing Report of 2013, about 40 per cent of respondents claimed to get considerable savings by using digital marketing methods of promotion of the products and services. Now you can guess how digital marketing is influencing the businesses.
3. Conversion rate is higher in Digital marketing
The incoming traffic conversion to leads, subscribers and sales are guaranteed by digital marketing. If your marketing campaign is not getting conversion then your efforts will be of waste. The audience outreach is higher in Digital marketing while compared with the traditional marketing approach. Digital marketing involves Search engine optimization, social media optimization, email marketing and many more.
4. Digital marketing facilitates interaction with a targeted audience
On digital marketing, businesses are able to interact with a targeted audience. However, physical marketing does not facilitate this interaction. When brands and businesses are able to maintain engagement with the audience, then customers can have a personalized experience.
5. With Digital marketing approach, Business can target mobile phone users
We all know that the number of mobile users in Nepal is very huge and hence, the Digital marketing approach helps business to reach these huge targeted mobile phone users. Think about the conversion you will get.
Always choose the best(MiN) for Digital Marketing in Nepal.
More: Digital Marketing has great Scope in Nepal. You can get high paying jobs as Digital Marketing Expert. Your salary starts from Rs.15000 as beginner in most Digital Marketing Companies in Nepal.