We provide Android App Development in Nepal at Best Price within your time frame. With more than 5 years experienced Android App Developers and 100+ Happy Clients, Marketing in Nepal is the leading Android App Development Company in Nepal.
What you and we have been seeing is the immense growth in technology. Almost everyone has a smartphone. Now every service and product can be bought or taken from a smartphone. There used to be days when a company must have a website. But now, it's time for Mobile Apps. It has become a game of survival where the 'go mobile or perish' condition has come. Android Apps are faster, Apps can provide personalized content, works in Offline and Online Mode with various device features. The interesting part is Android Apps is itself a good way to do Marketing in Nepal.
Enough guffs right? Let's see how We Build Android App in Nepal and How much does it cost to make an Android App in Nepal.
Android Development Process with Time
Being the Best Android App Development Company in Nepal, we follow strict App Development Guidance to develop small or medium or Large scale Mobile applications. Our Team of Android Developers in Nepal goes through the following process as the App Development life cycle.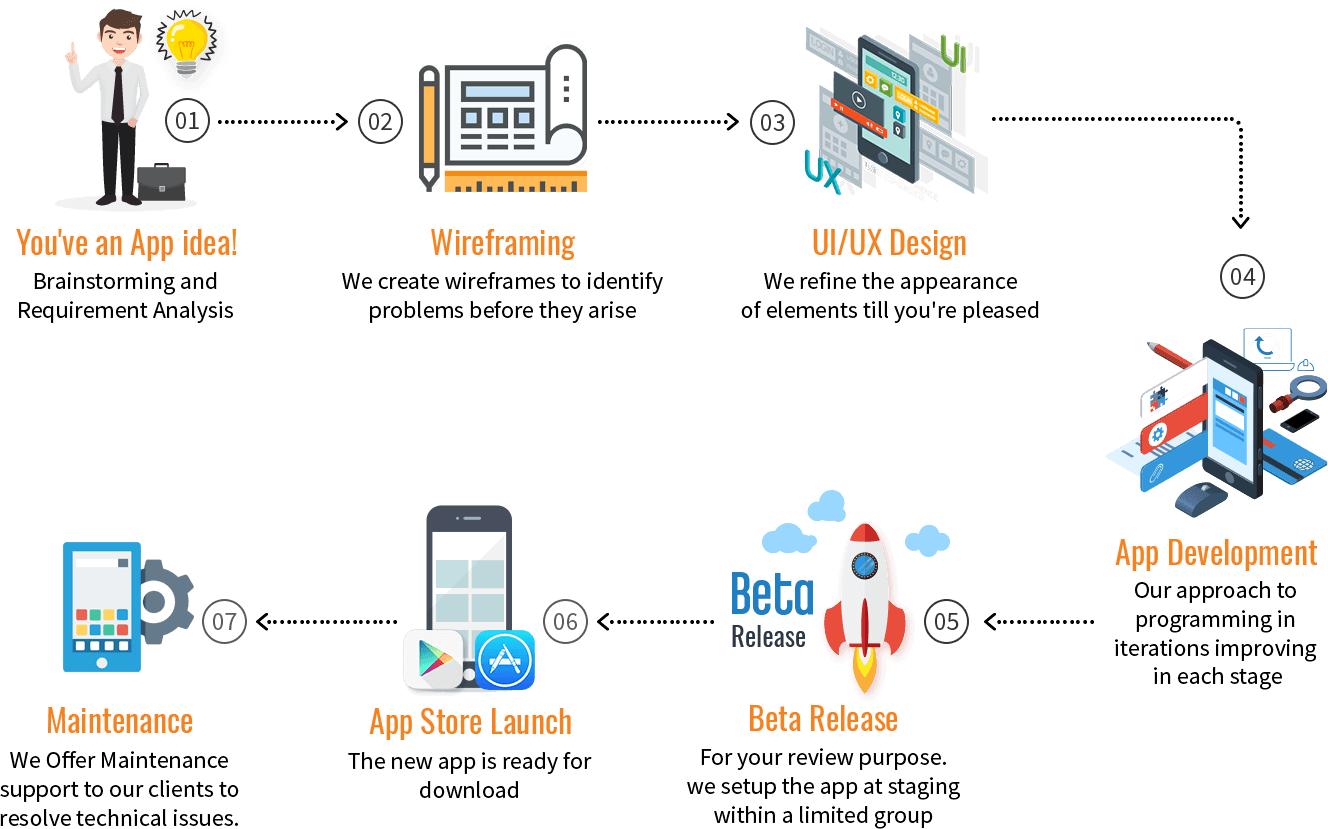 Requirement Analysis
The first phase of Android App Development in Nepal is to collect your requirements. Why are you planning to have an Android App? What features do you want in your app? Who are your targeted audience? After proper understanding of your need – we will brainstrom our team. And we will finalize How much does it cost to develop that App in Nepal with the time frame.
Time: Requirement analysis is about understanding your need and competition. This takes 5-7 days in App Development Cycle.
Wireframing
Now comes the second phase of App Development. In this phase, we create wireframes and project management. Here, we plan for the App and divide work among our team. We plan for every aspects of App like how are we going to build and how to solve certain problems before they arise. This stage also includes the sketching of how your app will look like and contact with you. After we both decide how our app will be, we will go into the next phase of UI/UX design.
Time: Wire-framing takes 5-7 days to talk with you and finalize the App Look and Feel and also divide the work among team.
UI/UX Design
Here comes the part when you will see your App. Our team of designers will give life to that sketch. We will be in instant co-ordination for finalizing app before we move into coding. When you are happy with the design we will start designing the UI/UX in our app. Now, you can see your app and touch or feel it.
Time: Generally, UI/UX design takes 14-16 days for finalizing the colors, sentiments and designing the app for look and feel.
Android App Development
The next step of Android App Development in Nepal is to develop the backend and add functionalities you want in your app. In this phase, we create Database Designs and Features you want in your app. We are at almost end of the app development process. We also develop APIs or work with your APIs in this phase. You can now see the basic features in of your app. We optimize and write reusable and understandable code for easy debug in future.
Time: Backend Development is hectic part for developers. It takes about 30-35 days for the App Development.
Minimum Viable Product ( Beta Release )
After the App Development, we release android APK with minimalistic feature to show you. We will give app to you and you can check what features are missing or what you did not like about the app. As complete app development is long process, we want to show our progress using Beta Release where limited users can use the app and share experience.
Time: After 5-10 days of App Development we will release a beta Version of Your App.
App Launch in Play Store
Android App are hosted in Play Store. After completion of App, we will do various testing and optimization and hence finally make your app ready for public use. Some Mobile App development agencies in Nepal skip or minimise this step and go for the next SDLC phase – release. However, without auto and manual tests it is impossible to be sure of the quality of your app. So, we will do various Testing and Quality Assurance and finally launch your app.
Time: The Testing and QA of App lasts for 7-10 days. After submitting app, play store takes 10-15 days to show it in App Store.
Maintenance and Support
App has to be maintained and version needs to be updated with features and bug fixes. We provide technical support in any other matter that can arise in our apps. Moreover, we help in promotion and marketing of your app after Android App Development in Nepal.
Time: We provide anytime support whenever you need and something needs to be updated.
Android App Development Price in Nepal
Android App Development Price in Nepal is affected by various factors like Features and Functionalities in your App, Platform and Framework you choose for App.
Having a Good Design and Great Design is different. We do not compromise in App Development and provide best UI/UX design according to user sentiments. As general estimation, the cost of UI/UX design comes about Rs.8,000 for simple applications.
We need to convert that design into the code and the cost of converting the design into look and feel costs you Rs.20,000 depending upon the designs and features. Moreover, we need to develop the Backend and Functionalities which also costs you around 40,000/- In addition to this the testing and QA is necessary to maintain the quality of app which costs you Rs. 30,000. Moreover, support and maintenance charges you about Rs.12,000 annually. In addition to this, it costs you $25 i.e Rs.3000 to publish your app in Play Store. So, it costs around 1 Lakh to develop Android App in Nepal.